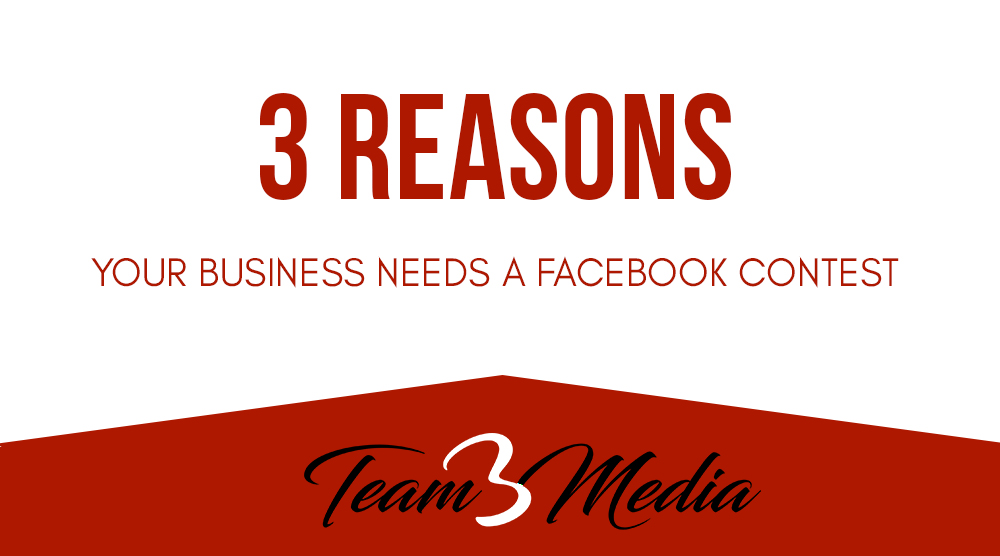 A Facebook Contest is one of those things that a business is either interested in or they're not. I think the reason why some are not interested, is because it's not easy to see the benefits that a contest can produce for your business. There's actually quite a few, but I'm going to cover just three reasons your business needs a Facebook Contest in this article.
#1: Build Your Email List
The first way a Facebook contest can help your business is to build your email list. During a contest, you naturally want to collect some information in order to contact people when they win. One of the easiest bits of information to collect is an email address. In this way, it is easy to collect email address from entrants. The only thing you need to worry about is the "CAN-SPAM Act" which makes it illegal for any business to email a user without their prior consent. It's easy to make sure you're in compliance, though. On your contest page form, just add a checkbox that asks the entrant if they want to opt-in to your email list. You can, of course, change the wording of this to make it a little more appealing. One of the best phrases I've found (for those businesses that apply) is "Yes! I would like to receive deals and specials from [insert company name]."
Case Study: Harter House Meats Facebook Contest
A couple of years ago, I ran a contest for Harter House Meats, a well-known grocery store in Springfield, MO who are known for their quality steaks. They wanted to run a contest that would boost their email list. I knew from doing previous contests that the best way to get more emails was to ask for the email, and as little other information as possible. Below is a screenshot from the actual contest page that was built showing that we only asked for the name, email address, and whether they wanted to "opt-in" to receive specials.
NOTE: It's very important to ask whether an entrant wants to receive marketing emails from you, so that you don't violate the "CAN-SPAM Act". This law makes it illegal for any business to email a user without their prior consent.
Components of Contest
Custom-designed Facebook contest page

Only asked for necessary Information

Pre-checked the "opt-in" email checkbox

$50 Facebook ads budget

Promotional emails sent to existing list (about 50)

Promotional Emails continued weekly throughout the contest to remind people to enter or invite their friends

Facebook posts posted throughout the contest enticing users to enter (some of these were boosted with Facebook ads)

Signs posted in-store to tell customers about the contest with a QR Code that took them directly to the page.

Flyers with the same information as above, which cashiers handed out.
Results
Beginning Emails: 50
Ending Emails: 712
Email Growth Rate: 1324% (in just 30 days)
Opt-in rate (entrants to contest): 92%.
Opt-in Rate (entrants vs. actual email opt-ins): 83%
Facebook Like Growth: 786 Total Likes
I've managed other contests with similar results, but this is my favorite because of the results they received when they were first starting out!
#2: Increase engagement
Contests are exciting! That's why people share them. And exciting on social media, leads to more shares, more comments, and, ultimately, more followers (sometimes more than you could possibly imagine). In fact, people will naturally share your contest because it is so exciting.
Ways to Increase Engagement On Your Contest
Post to your Facebook Page about the contest.

Ask people if they like the contest/item you're giving away.

Ask people to tag their friends who might like the contest.

Boost posts with Facebook ads. You can do this for as little as $5 per post.

Run your contest during a holiday period, and "theme" it for the holiday.

Choose an exciting prize.
NOTE: As part of Facebook's Promotion Rules you can't ask someone to tag their friend as a condition to enter your contest, or like your page. Check out the full official Facebook Promotion Guidelines.
#3: Increase Awareness
Another way that contests can help you build your business is to increase awareness. As I said before, a contest is naturally exciting. This phenomenon leads users to share your contest with their own friends and connections. People who would normally never be exposed to your business are suddenly seeing your content and getting exposed to your business. This could result in more Likes for your Facebook Page, more entrants to your contest, and even more customers.
It's hard to measure the impact of awareness. There are a couple of metrics that you can use to see if your awareness seems to be going up. The first is post "Reach", which looks like the screenshot below when you access it in your Facebook Insights.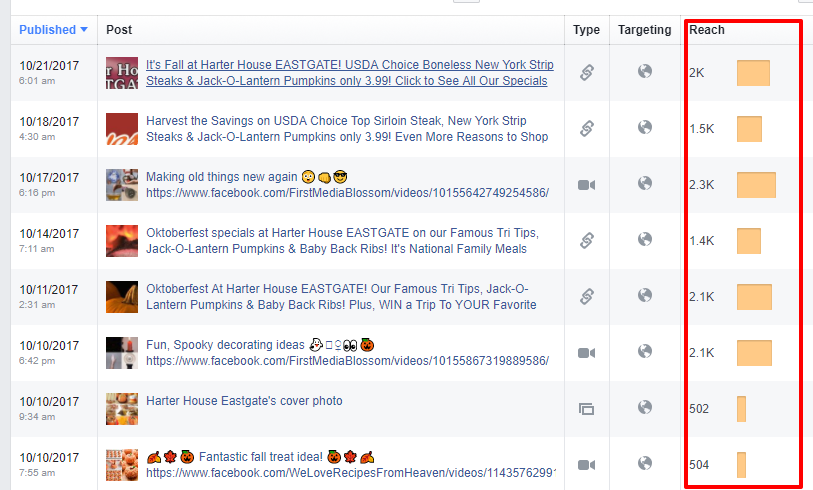 Reach only tells you the number of times that your post showed up on a person's newsfeed, regardless of whether it was clicked on or not. In other words, it doesn't tell you whether someone actually viewed your post, if they scrolled past it, or if they clicked on it. However, if you see your Reach numbers go up, then you are definitely getting more eyeballs on your content.
The next metrics that you want to keep an eye on are the engagement metrics (likes, comments, and shares). These will tell you if your post is really resonating with your audience. These numbers will always be smaller than reach. Again, though, you want to look for these numbers trending up or at least staying steady. See the screenshot below for what it will look like in your Facebook Insights.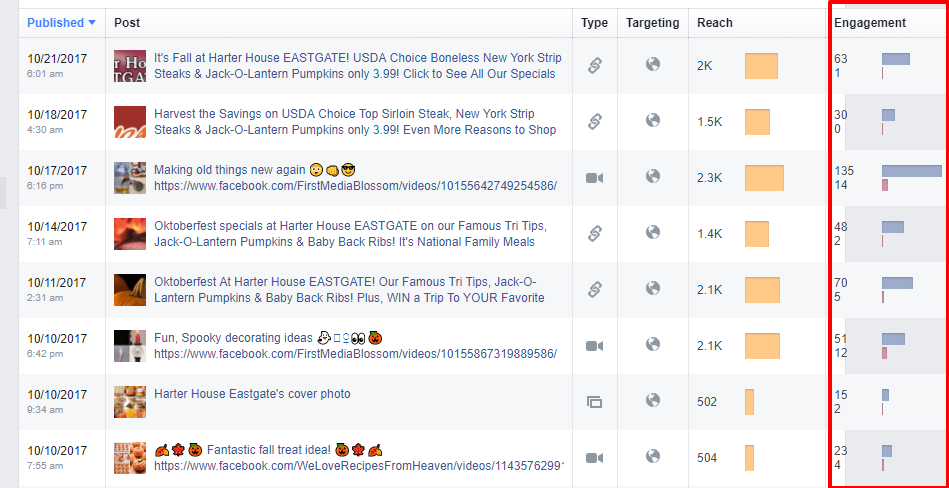 A contest should naturally raise both these numbers. Just be aware that once your contest is over these numbers will likely drop dramatically. However, if you gained followers from your contest, they should be up from what they were before the contest.
Want to learn more about running a successful Facebook Contest?
I've created a course to teach you how to build a Facebook contest which will build your email list fast. You can use the techniques I teach to run other types of contests. I focus on one type of contest to get you started, and, also, to give you confidence to run more contests once you see that the system works. Check out my contest course, by clicking on the button below.
Latest posts by Cassie Witt
(see all)